8 Christmas Gifts Your Favorite Prepper Will Love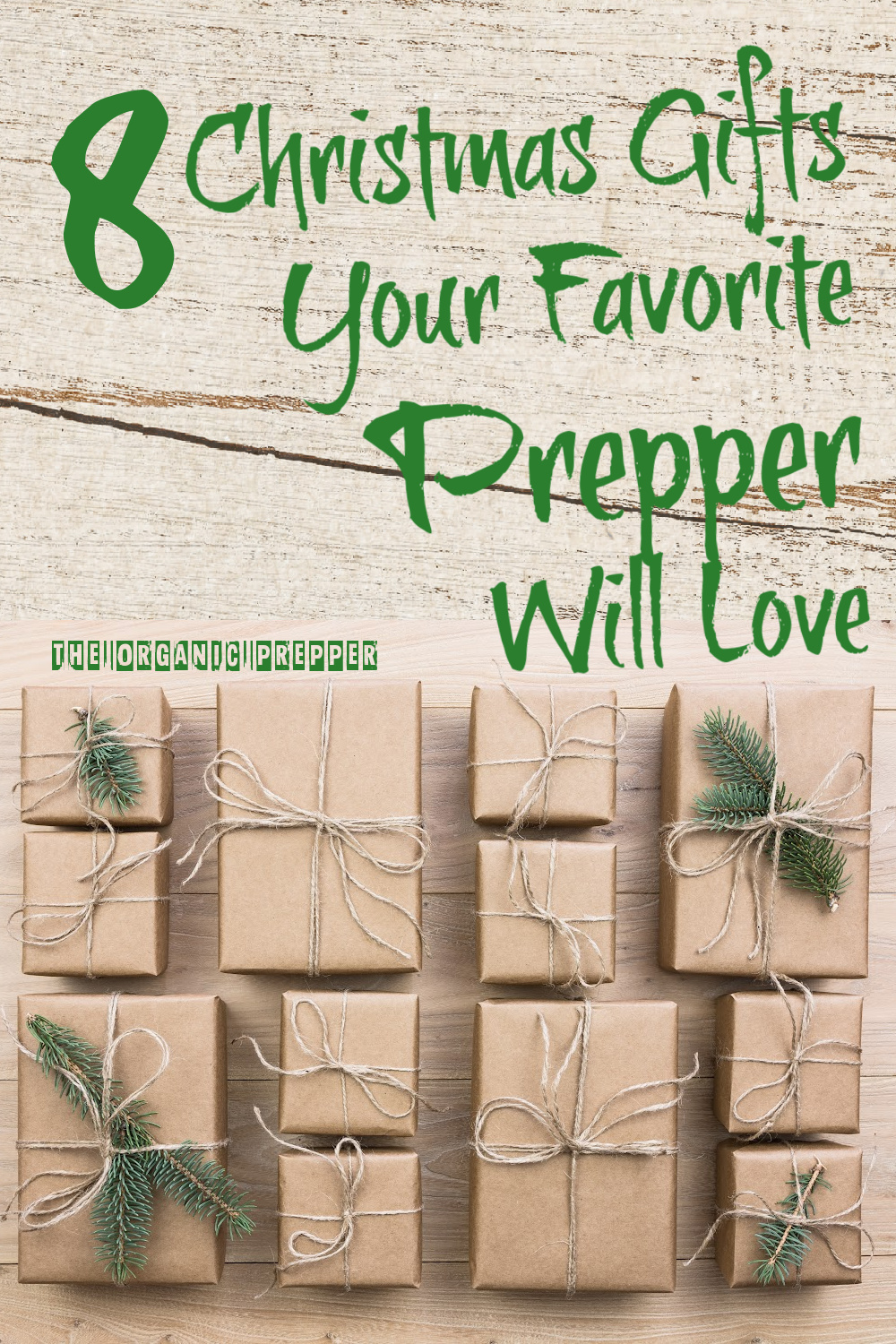 (Psst: The FTC wants me to remind you that this website contains affiliate links. That means if you make a purchase from a link you click on, I might receive a small commission. This does not increase the price you'll pay for that item nor does it decrease the awesomeness of the item. ~ Daisy)
Shopping for your favorite preppers is probably the easiest part of fulfilling your list. We're notoriously easy to buy for as long as you keep our passion for preparedness in mind. The time of the year is here, meaning you're more than likely getting ready to get a bit of Christmas shopping done as a means of showing your love to the, uh, loved ones in your life. (Or let's be real – there's probably a thingamabob you've been eying, too.) 
If you're looking for survival and preparedness-related gear to give as gifts this December 25, then you may want to check out some of the incredible sales that you can find at some of the following locations.
There's a little bit of everything here, and I'm fairly confident you'll be able to find something for the people on your list.
The largest knife store in the world – and probably one of the only stores on the planet where Black Friday shoppers are afraid to get rowdy – SMKW has literally any knife that you have ever wanted before. They've got a few "spree" sales coming up this weekend, with different tiers for how much money you spend. Buy $39 worth of gear, and you'll get free FedEx shipping. Buying $75 worth of merchandise will get you a free Kershaw Cinder. $199 gets you a free Cold Steel Axis, and so on up the dollar amount.
An awesome firearm company in South Carolina, PSA has some amazing firearm sales coming up for Black Friday. Almost $400 off a PSA PA-15 16" Nitride M4 Carbine in 5.56 NATO is pretty fantastic, and they have a PSA 16" M4 carbine length 5.56 NATO "Freedom Rifle Kit" for only $329.99. It looks like the only thing that you would need for the Freedom Rifle Kit is a lower receiver (the part with the serial number), and you'd be all set once you put the thing together.
(Make sure you check out our free QUICKSTART Guide to home canning so that you know what to do with all of that food.)
If you need to get your medical gear stocked up, Doom and Bloom looks like they have a number of sales going on at the moment. Their eye care emergency kit, minor surgery set, and emergency labor and baby delivery kit are all on sale, and that's just the tip of the iceberg. They have kits for just about any medical emergency that you could think of, and at the moment, the bulk of them seem to be heavily discounted.
I'm a big fan of John Lovell over at Warrior Poet Society. His recent video here has coincided with a lot of the conversations I've had with people lately. It seems there are a lot of people out there at the moment who are buying up books left and right. If you have had a few titled on your "I really need to check that out" list, Thrift Books is having a free book sale where you can get earn free book rewards for different dollar amount tiers. The more you spend, the more free books you qualify for. This could be a great way to either get yourself or somebody you love squared away in the book department.
I always keep my eye on HarvestRight because they're the king of freeze dryers. Their home freeze-dryer model is marked down to about $2700 this Black Friday, which could save you a few hundred dollars if you've gotten serious about freeze-drying your own food. Typically these machines run right around $3200, so you could save $500 here.
If you're looking at getting your communications gear squared away, Gigaparts has a host of really good radio sales this weekend. The Yaesu FT-4XR is marked down to $70, the Yaesu FTM-300DR is $150 off, and the Yaesu FT-70DR is $15 off. It's worth checking out.
I'm not sure if this is a Christmas sale or just a sale, but I'm kind of at the point where I don't really feel that the label matters, right? A sale is a sale! There are a number of great deals available over here on Mountain House food cans if you're in need of rice and chicken, granola with milk, scrambled eggs with bacon, or chili mac with beef. Each of these products is at least $50 off, and two of them are over $100 off. That's not bad if you're trying to square away your home for rampant inflation.
Are you looking for Christmas gifts…but don't want to get caught up in the commercialization of the shopping season? I have the perfect solution for you.
Seeds for Generations is a small family business, run from a homestead in Virginia. This Thanksgiving weekend, they've decided to offer loads of discounts that will help you PRODUCE, instead of just consume. Check out their sale here.
(Want uninterrupted access to The Organic Prepper? Check out our paid-subscription newsletter.)
Merry Christmas!
I hope that everybody has a fantastic Christmas with their friends and family. Despite all the nonsense that is going on in America today – that you do have a right to be upset about – we still have a lot to be thankful for.
Are there other great Christmas sales out there that you know about? Are you excited about any of the above? What are you getting for your favorite prepper this year? Let us know in the comment section below.
About Aden
Aden Tate is a regular contributor to TheOrganicPrepper.com and TheFrugalite.com. Aden runs a micro-farm where he raises dairy goats, a pig, honeybees, meat chickens, laying chickens, tomatoes, mushrooms, and greens. Aden has four published books, What School Should Have Taught You, The Faithful Prepper,  An Arm and a Leg, The Prepper's Guide to Post-Disaster Communications, and Zombie Choices. You can find his podcast The Last American on Preppers' Broadcasting Network.