In reversal, Netanyahu says he's keeping Gallant as Israel's defense minister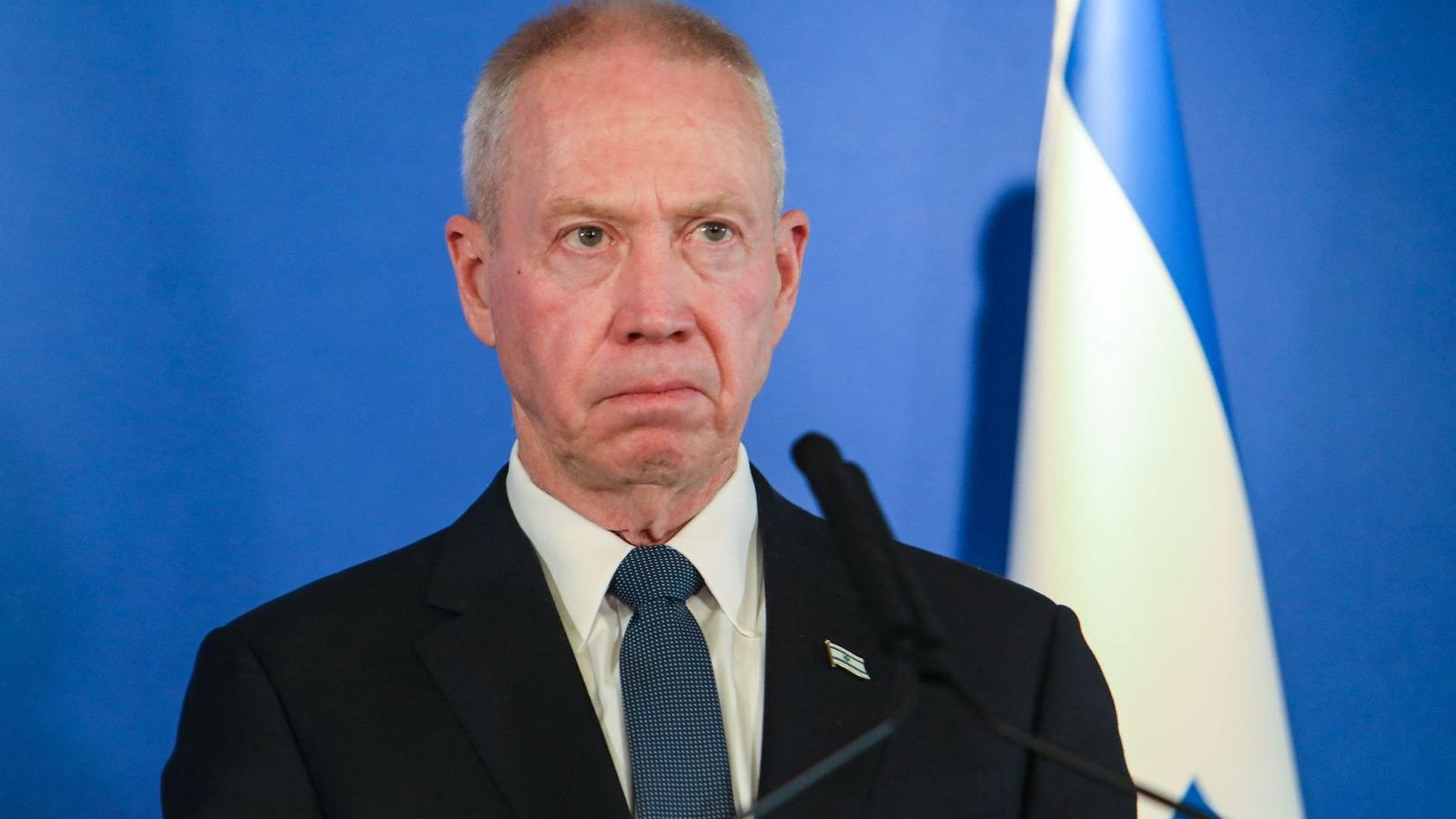 Defense Minister Yoav Gallant. Photo: Gil Cohen-Magen/AFP via Getty
Israeli Prime Minister Benjamin Netanyahu on Monday reversed his decision to fire Defense Minister Yoav Galant, who was initially sacked after calling on the government to suspend its judicial overhaul plan.
Why it matters: Netanyahu's decision to keep Gallant in place is seen by many as a major achievement for the anti-government protesters, who held spontaneous demonstrations in support of the defense minister after his firing was announced two weeks ago.
It also comes after recent polling that suggested that Netanyahu's decision to get rid of Gallant was significantly hurting him politically.
What they're saying: "Minister Gallant and I are working together on countering the security challenges. We had tough differences but I decided to put our differences behind us," Netanyahu said at a press conference on Monday.
Shortly after Gallant tweeted a photo of himself with Netanyahu and wrote: "We are moving full speed ahead – for Israel's security."
Catch up quick: Gallant gave a televised speech two weeks ago and called for the immediate suspension of Netanyahu's judicial overhaul legislation, saying it had "created an internal rift that poses a clear and immediate threat for Israel's national security."
A day later, Netanyahu announced he had decided to fire Gallant, saying he lost confidence in him as defense minister.
Shortly after Netanyahu sacked Gallant, protests erupted in several cities across the country with hundreds of thousands of Israeli taking to the streets.
At the same time, the Biden administration put pressure on Netanyahu to suspend the legislation and reverse his decision to fire Gallant. President Biden even sent Netanyahu a personal private message about it.
The next day, Netanyahu announced he was suspending the judicial overhaul legislation to give a chance for a dialogue with the opposition.
The big picture: Over the last two weeks, Gallant's warning at least partially materialized when escalating tensions around Jerusalem's Temple Mount, also known as Haram al-Sharif, led to rocket fire from Gaza, an unprecedented rocket attack launched from Lebanon and a separate rocket attack from Syria.
Netanyahu was criticized harshly for the security deterioration and for the fact that he didn't walk back Gallant's sacking. Several polls showed that close to 70% of the Israeli public and 60% of Likud voters object to Gallant's firing.
Netanyahu, his Likud party and his government in recent days continued to take a hit in the polls, which showed that if elections were held today, the coalition would lose more than 10 seats and the opposition would be able to form a government.
A Channel 13 poll published on Sunday, showed that only 21% of Israelis think that Netanyahu's performance as prime minister is good. About 70% said it is not good. According to that poll, Likud would only win 20 seats – 12 less than it has today.
In his press conference Monday, Netanyahu blamed the previous government and the opposition of being responsible for the recent security crisis — an accusation the opposition immediately rejected.