The science of standup: can you train someone to be funny?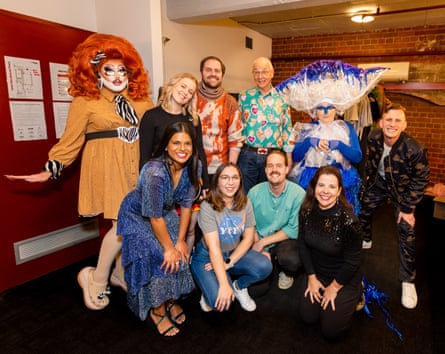 Five scientists walk into a theatre and try standup for the first time. Does hilarity ensue?
Yes, according to the producers of the Steam Room – a program in which comedians teach a team of scientists how to be funny. The result, after weeks of improv classes and intensive workshops, is several nights of science-inflected live comedy performed around Australia.
The Guardian spoke to several scientists participating in the Steam Room ahead of their first 2023 show at the Malthouse Theatre in Melbourne. By this point, each had been through weeks of bootcamp: two full-day standup workshops, improv classes and writing and performance workshops. But can you really teach someone to be funny?
"I think that this show will prove that we can," says Ru Halwala, who co-produced the program with fellow comedian Tom Stevenson, together known as Scary Strangers.
Multiple theories seek to explain the purpose and mechanics of humour. There's the superiority theory – that our laughter expresses feelings of superiority over the butt of the joke. Aggression "is regarded as an essential component of humour, particularly so if playful", according to this theory.
Then there's the incongruity theory – when a joke takes us by surprise because of the discrepancy between what we think will happen and what actually does. Another theory is that humour is a relief mechanism that serves to "dispel the tension that is associated with hostility, anxiety, conflict, or sexuality".
A 1989 study that looked at the components of humorous texts asked university students to generate punchlines and to rate jokes for their funniness. "Funnier jokes had a clear disparaged target, were easy to comprehend, and had [an] original punchline," the researchers found.
A foundation of good comedy, Stevenson believes, is authenticity. "Telling genuine stories about things that you're passionate about – that's a great basis. And then generally, if something goes wrong, then that's fine."
Robin Williams had a similar view: "In the process of looking for comedy, you have to be deeply honest," he once told NPR.
By the end of the Steam Room boot camp, the scientists involved had each developed polished four-minute sets that drew upon their research and experiences as scientists. None had any standup comedy experience before signing up to the program.
"If you're having fun presenting something that you're passionate about, people will have fun coming on that journey with you," Halwala says. "No matter what the topic is, you can make it engaging.
"Improv has really helped to build people's stage personas and help them be super comfortable with whatever happens in the moment.".
Luke Steller, who is completing his PhD in astrobiology at the University of New South Wales, came up with the Steam Room concept as a way of bringing science to a broader audience. "When [we're] in our little bubble in our scientific worlds, [we] think that everyone understands what we do or that it's the biggest thing in the world – but it's not.
"A lot of people don't really care unless you engage with them on a level that they can appreciate."
Steller's research focuses on "how to find aliens in space". It's a difficult task, he later tells a live audience, studying something when you don't know if it even exists yet. "But there are big corporations studying clean coal all the time," he muses.
The show is packed, thanks in no small part to the headliner, Dr Karl Kruszelnicki, and also the space TikToker Kirsten Banks, an astrophysics PhD student who also underwent the comedy bootcamp.
Diva Attenbra, a drag queen and wildlife biologist, does a funny and edifying set on homosexuality being natural, providing examples of homosexual behaviour documented in other animal species.
Dr Scott Chadwick, a forensic scientist, tells me he applied for the program partly out of peer pressure. But how does one make forensic science humorous?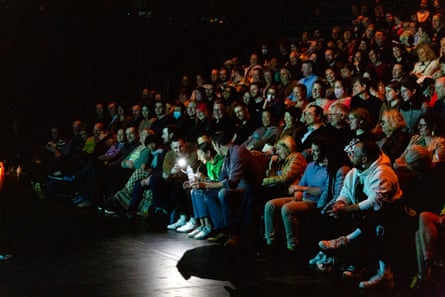 The challenge has been finding a balance between light and heavy, he says. "You don't want to go too hard and too dark."
On stage, Chadwick recounts blacking out the first time he entered a morgue, which prompted a panic about his career choice. "It's OK, because now I still get to be in a room filled with dead-eyed lifeless bodies," he explains. "Otherwise known as students – I teach forensic science!"
Dr Linda Mitchell, who works as a rubber chemist for a tyre recovery organisation, says "there were a lot of different factors that I didn't realise were involved in comedy … in the writing, but also the performance".
Mitchell, in her pun-filled set, expresses the desire for a partner with all of the same qualities as her favourite material: "He needs to be flexible, strong, drive me around, bounce back when I put him under pressure."
After weeks of training, the scientists speak confidently, their four-minute sets tight and sharp. Pleasingly, it is – as Mitchell puts it – "a wheelie good night".