How to Choose the Right Backpack for Emergency Situations

When it comes to emergency situations, being prepared can make all the difference. One essential item that should be part of your emergency preparedness kit is a reliable backpack. A well-chosen backpack can provide you with everything you need to carry essential items during an emergency. Here is how to choose the right backpack for emergency situations.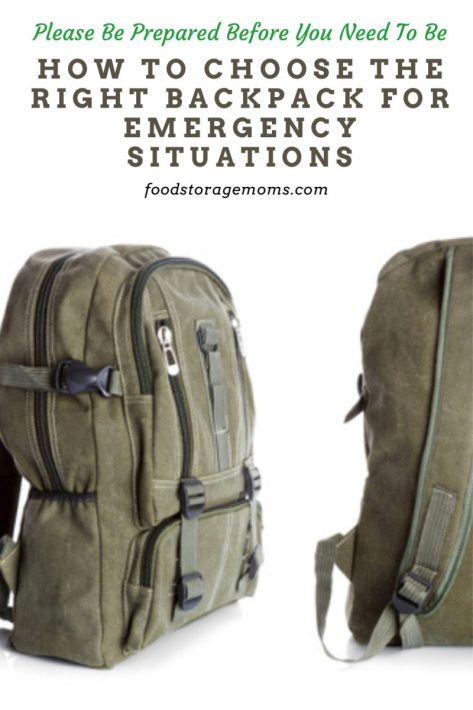 1. Capacity and Size
The size and capacity of the backpack are vital considerations. You need a backpack that is spacious enough to accommodate your essential supplies, yet not too large to hinder mobility or become excessively heavy. Aim for a backpack with a capacity of at least 30 liters, as this should provide ample space for emergency essentials such as food, water, first aid supplies, clothing, and other important items. How to Reduce Waste as a Prepper
2. Durability and Build Quality
In an emergency, you need a backpack that can withstand demanding conditions. Look for backpacks made from high-quality, durable materials such as nylon or polyester. Reinforced stitching and strong zippers are also crucial to ensure the backpack can endure rough handling and resist wear and tear over time. Water-resistant or waterproof materials can protect your supplies from rain or other wet conditions. Back To School Backpack Survival Kit
3. Comfort and Fit
Comfort is paramount, especially if you may be wearing the backpack for extended periods. Look for a backpack that features adjustable, padded shoulder straps and a sternum strap. These features distribute the weight evenly and reduce strain on your shoulders and back. A padded back panel and a waist belt can also provide additional support and stability, making it easier to carry the backpack for longer periods. What You Need in Your Evacuation Shelter Bags
4. Organizational Features
During emergencies, quick access to specific items is crucial. Choose a backpack that offers multiple compartments, pockets, and organizers. This allows you to organize your supplies efficiently, making it easier to find what you need when time is short. Look for backpacks with interior dividers, mesh pockets, and external attachment points for extra versatility. Preparing for the School Year: Must-Have Items for Preppers
5. Security Features
When selecting a backpack for emergencies, security features should not be overlooked. Opt for a backpack that includes lockable zippers or other anti-theft mechanisms. These features can help protect your valuable supplies and give you peace of mind in uncertain situations. 20 Ways to Step Up Security Measures Around Your Property
6. Visibility and Reflective Elements
In emergency scenarios, visibility is essential, especially if you are moving during low-light conditions or at night. Choose a backpack that incorporates reflective elements or high-visibility colors to enhance your visibility to others. This can aid in search and rescue efforts and increase your overall safety. What to Use for Insulation to Stay Warm
What are backpacks used for in emergencies?
Backpacks are used as a convenient and portable way to carry essential items and emergency supplies. They are designed to provide quick access to necessary tools and equipment, ensuring preparedness during crisis situations. Emergency backpacks are commonly used by individuals, organizations, and first responders to store and transport items such as food, water, first aid kits, flashlights, batteries, communication devices, clothing, blankets, and other survival necessities.
What do you think should be in this person's emergency backpack for 72 hours?
Water – Pack at least one gallon of water per person per day. You can also include water purification tablets or a water filter. How to Reduce Waste as a Prepper
Non-perishable food – Include canned or packaged foods that don't require cooking or refrigeration, such as energy bars, dried fruits, nuts, and canned goods.
First aid kit – Have a well-stocked first aid kit with bandages, antiseptic wipes, pain relievers, prescription medications, and any necessary medical supplies.
Flashlight and extra batteries – Make sure you have a reliable flashlight and spare batteries to provide light during power outages. How To Recharge Batteries With Solar For Survival
Portable radio – Include a battery-powered or hand-cranked radio to stay updated on news and emergency broadcasts. What You Need in Your Evacuation Shelter Bags
Extra clothing and blankets – Pack a change of clothes, sturdy shoes, and warm blankets or sleeping bags for comfort and protection from the elements. Best Time to Buy Children's Clothing
Personal hygiene items – Include toiletries like toilet paper, soap, toothbrushes, toothpaste, hand sanitizer, and wet wipes. 35 Essential Personal Hygiene Products You Need to Stock
Multi-purpose tool – A Swiss army knife or multi-tool can be useful for various tasks such as opening cans, cutting ropes, or repairing equipment. Invaluable Tools Necessary for Transporting Emergency Supplies
Cash and important documents – Keep some cash in small denominations and copies of important documents like IDs, passports, insurance policies, and contact information. Cash vs. Credit Card: Which is Better in an Emergency?
Emergency contact list – Write down important phone numbers and addresses of family members, friends, and emergency services. Be Prepared for a Hurricane + Free Printable Emergency Binder Contents
More Emergency Tips
Final Word
Selecting the right backpack for emergency situations is crucial for your preparedness. Remember to consider all factors, when choosing a backpack for emergencies, as it can make a significant difference in your readiness and resilience during unexpected events. May God Bless this World, Linda
Copyright Images: BackPacks Army Green Color Depositphotos_36662425_S by 12,252 AntonioGravante, Backpacks Colorful Depositphotos_223039248_S by Billiondigital