Conspiracy theories swirl around Russell Brand allegations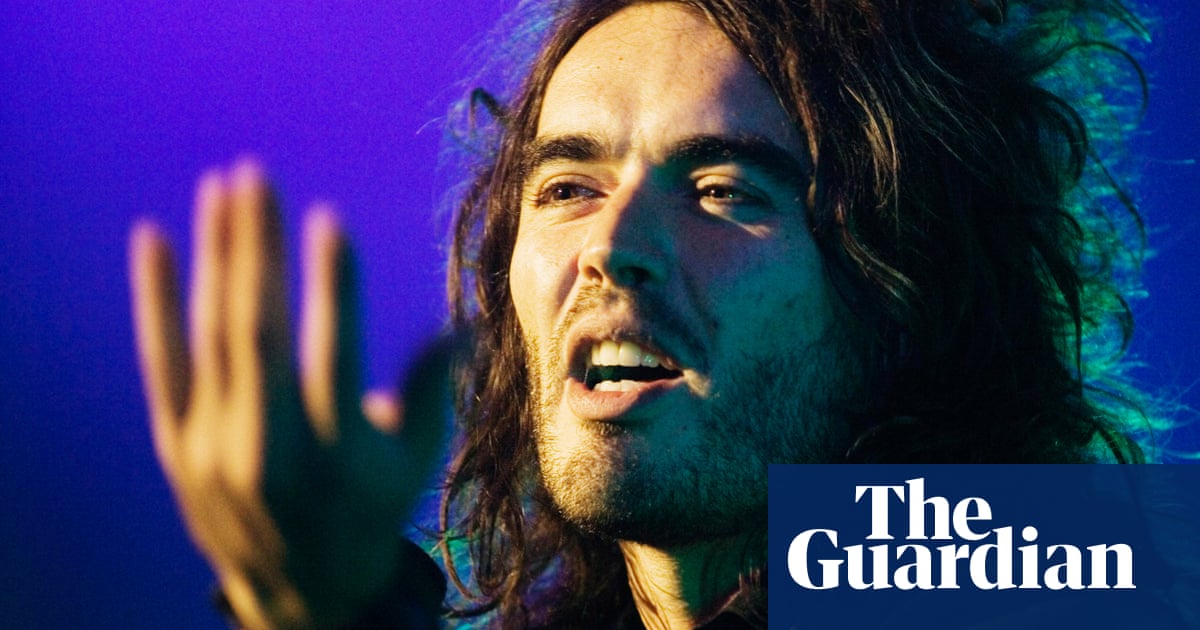 After allegations of sexual assault and rape against the comedian Russell Brand were published, some were quick to take up conspiracy theories about why they had been published.
Brand set the wheels in motion when he published a video in which he rebutted the allegations the night before they were aired and claimed they were linked to an attack on his freedom of speech.
He said he was the victim of a "coordinated attack" from the mainstream media outlets who published the allegations – the Times, the Sunday Times and Channel 4's Dispatches – and that there was a "serious and concerted agenda" to control his voice.
He compared his experience to the media critique of Joe Rogan, the US podcaster who has been accused of promoting falsehoods and misinformation about Covid vaccines.
"It's been clear to me, or at least it feels to me, like there's a serious and concerted agenda to control these kind of spaces, and these kind of voices, and I mean my voice along with your voice," he said, signing off by telling his followers to "stay free".
An investigation spanning a number of years, and published on Saturday by the Sunday Times, revealed that Brand had been accused of sexual assault, rape and predatory behaviour between 2006 and 2013 by four women. Brand denies all the accusations.
According to the paper's report, one woman claimed she had a relationship with Brand when she was 16 and he was 31, and alleged that he would refer to her as "the child" and encourage her to lie to her parents.
Another woman alleges that Brand raped her against a wall in his Los Angeles home and that she visited a rape crisis centre the same day. She received therapy there for the next five months.
Hours after the allegations emerged on Saturday, Brand performed at a sold-out gig at the 2,000-capacity Troubadour Wembley Park theatre in north-west London where he received a standing ovation from fans. He apparently told the crowd there were certain things he could not talk about during the show.
While Brand was being dropped by his talent agency and a charity he was affiliated with, those who came to his aid included Elon Musk, the billionaire entrepreneur and owner of X (formerly Twitter), who responded to his video statement: "Of course. They don't like competition."
He also replied to another tweet defending Brand, saying: "No more canceling. Enough is enough."
The self-proclaimed misogynist influencer Andrew Tate, who is awaiting trial in Romania on charges of rape and human trafficking, announced to his followers that he would hold an "emergency meeting" on Sunday evening to "tell everybody the truth about what's happening to Russell Brand". "I know things I shouldn't know," he said.
He had already tweeted Brand saying "Welcome to the club", and shared a post saying that Brand was getting the "Andrew Tate treatment".
The former Fox News host Tucker Carlson also posted on X suggesting the allegations were linked to Brand's views on topics such as "drug companies … and the war in Ukraine". The GB News host Beverley Turner said Brand was welcome on her show "any time" and that he was being attacked for creating "autonomous, knowing and original content" on his channels.
Brand's sister-in-law, the television presenter Kirsty Gallacher, initially seemed to show support, sharing his video statement on her Instagram story with a red love heart, although she later deleted it.
Brand has amassed a large following on social media – 3.8 million accounts on Instagram, 2.2 million on TikTok and 6.6 million on YouTube – with his videos often featuring interviews with far-right influencers and promoting conspiracy theories on issues such as the Covid pandemic, the war in Ukraine and the climate crisis.
Videos he has posted in recent weeks include titles such as "What REALLY started the Hawaii fire?", "State of fear! Covid propaganda exposed!" and "Zelensky's MASSIVE Ukraine censorship EXPOSED."
One of his videos was removed from YouTube last year for allegedly "spreading Covid misinformation", prompting him to move to the video channel Rumble, where he livestreams almost daily.