YouTube suspends Russell Brand's revenues from his channel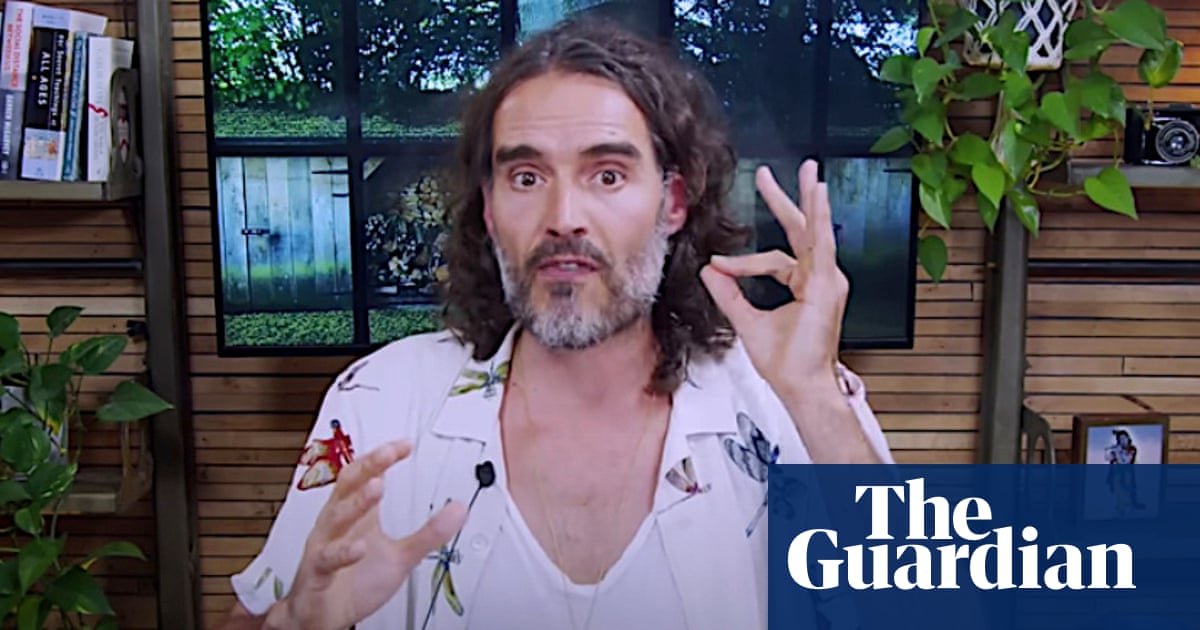 YouTube has suspended Russell Brand's ability to earn money on the platform after allegations of rape and sexual assault in a massive hit to his finances.
The video-sharing and social media site said it had suspended Brand's channel from the YouTube partner programme after serious allegations against him, meaning his videos are no longer able to be monetised on the platform.
The BBC has also removed a handful of programmes featuring Brand from its iPlayer and Sounds streaming service, joining the likes of Channel 4 and Comedy Central in removing archive shows featuring the comedian.
The 48-year-old comedian and actor has been accused of rape, assault and emotional abuse between 2006 and 2013, when he was at the height of his fame working for the BBC, Channel 4 and starring in Hollywood films. He denies the allegations, saying all his relationships were consensual.
The Metropolitan police said on Monday they had received an allegation of sexual assault in Soho, central London, in 2003. The force added that as yet no investigation had been launched.
The chair of parliament's culture, media and sports committee on Tuesday, meanwhile, wrote to TikTok to ask if Brand was still able to monetise posts, including those in relation to the allegations against him.
Caroline Dinenage, the Conservative MP who chairs the committee, also said she was requesting details from GB News about discussions with its presenters on their responsibilities relating to impartiality and professionalism.
The GB News host Beverley Turner said Brand was welcome on her show "any time" and that he was being attacked for creating "autonomous, knowing and original content" on his channels.
Dinenage also wrote to the BBC, Channel 4 and Banijay UK, the production company behind a TV show fronted by Brand, to ask about their investigations into the allegations.
Suspending Brand's ability to earn money from his YouTube channel is a heavy blow to the comedian's finances. YouTube pays creators a cut of the money it earns from showing adverts next to their videos, which can be a highly lucrative business.
Brand had prepared for this eventuality by moving many of his videos across to the rival site Rumble, although its a relatively niche outlet that does not give Brand access to the 6.5 million subscribers he has built up during a decade on YouTube.
Although Brand no longer works for mainstream outlets, his alternative media empire still relies on several online platforms such as YouTube that host his content and process payments.
Brand's book publisher has said it will pause future projects with the performer.
A spokesperson for YouTube said: "We have suspended monetisation on Russell Brand's channel for violating our creator responsibility policy. If a creator's off-platform behaviour harms our users, employees or ecosystem, we take action to protect the community."
Industry experts have estimated Brand probably makes between £2,000 to £4,000 a video, which,, based on five videos a week, could produce close to £1m a year.
YouTube's creator responsibility guidelines state that "if a creator's off-platform behaviour harms users, employees, or ecosystem, the platform may take action to protect its community, including by suspending monetisation.
"When a creator is suspended from the YouTube partner programme, they are prohibited from using a new or alternate channel to circumvent our enforcement decision."
YouTube's move follows decisions to suspend Brand's live tour and cancel publishing plans.
The allegations in the Times, the Sunday Times and Channel 4's Dispatches include claims Brand assaulted one of the women when she was a 16-year-old schoolgirl, while another woman has claimed he raped her against a wall in his home in Los Angeles. The Sunday Times published texts to her – from a phone number that it said multiple sources verified as belonging to Brand – in which he said: "I'm sorry. That was crazy and selfish."
A third woman says she was assaulted in the same house the following year after working with Brand on a project.
Before the first allegations were published, Brand posted a video online on Friday saying he had been "promiscuous" but that all of his relationships had been "consensual".
Brand's publisher, Bluebird, said "all future publishing" with the comedian had been paused.
The remaining shows on Brand's Bipolarisation tour were postponed after an announcement on Monday.