10,000 Assault Rifles Being Distributed to Israeli Civilian Security Teams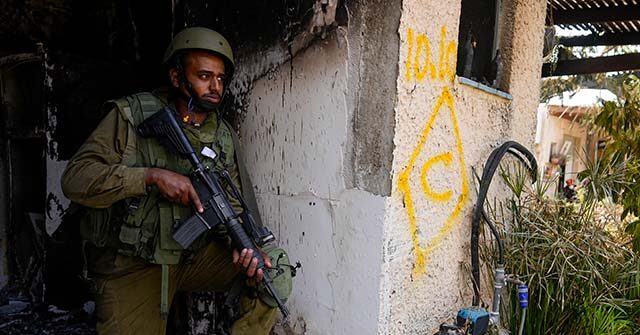 Israel's National Security Minister Itamar Ben Gvir announced Tuesday that 10,000 assault rifles are being purchased and distributed to civilian security teams in communities along the country's borders.
On October 8, Breitbart News reported that Israeli Defense Minister Yoav Gallant ordered Israel Defense Forces (IDF) to distribute weapons and ammunition to communities near the Gaza border.
RELATED VIDEO — CNN's Tapper: Last Few Days Really Eye-Opening to "Anti-Semitism on the Left":
Ben Gvir also made it clear he wants an IDF representative designated to work with "local leaders" in the area near the Gaza border, in order to maximize the use of the armed citizenry.
Now the Times of Israel noted that Ben Gvir's "ministry is purchasing 10,000 rifles to arm civilian security teams, specifically those in towns close to Israel's borders around the country."
Bulletproof vests and helmets will also be distributed.
WATCH — Jake Sullivan: U.S. Will Support Israel War Against Hamas "for as Long as They Need":
The decision to distribute the rifles and equipment came after some civilian security teams reported they could fight off Hamas attacks like the one that occurred Saturday night.
Ben Gvir said:
We will turn the world upside down so that towns are protected. I have given instructions for massively arming the civilian security teams to provide solutions for towns and cities, and so as not to leave towns unprotected, preparations will be made for a Guardian of the Walls 2.
Hamas has kidnapped Israeli women, gone door-to-door to kill Israelis in their homes, ambushed and killed Israeli drivers on streets and highways, and committed atrocities against Israeli children. By October 10, the Associated Press observed that the death toll from Hamas' attacks on Israel has "risen to above 1,000."
WATCH — Brennan: Evil Hamas "Is Not Going to Survive" This War:
Ben Gvir leads a far-right party often derided as extremist. He was elected in 2022, partly because of public outrage at rioting by Israeli Arabs against Israeli Jews. He proposed an armed "national guard" that, he said, would protect civilians against riots and terror.
As recently as August, Gallant, panned Ben Gvir's idea, calling it a "private militia."
AWR Hawkins is an award-winning Second Amendment columnist for Breitbart News and the writer/curator of Down Range with AWR Hawkins, a weekly newsletter focused on all things Second Amendment, also for Breitbart News. He is the political analyst for Armed American Radio and a Turning Point USA Ambassador. He was a Visiting Fellow at the Russell Kirk Center for Cultural Renewal in 2010, a speaker at the 2023 Western Conservative Summit, and he holds a Ph.D. in Military History, with a focus on the Vietnam War (brown water navy), U.S. Navy since Inception, the Civil War, and Early Modern Europe. Follow him on Instagram: @awr_hawkins. You can sign up to get Down Range at breitbart.com/downrange. Reach him directly at [email protected].