Why Western Women Are Converting to Islam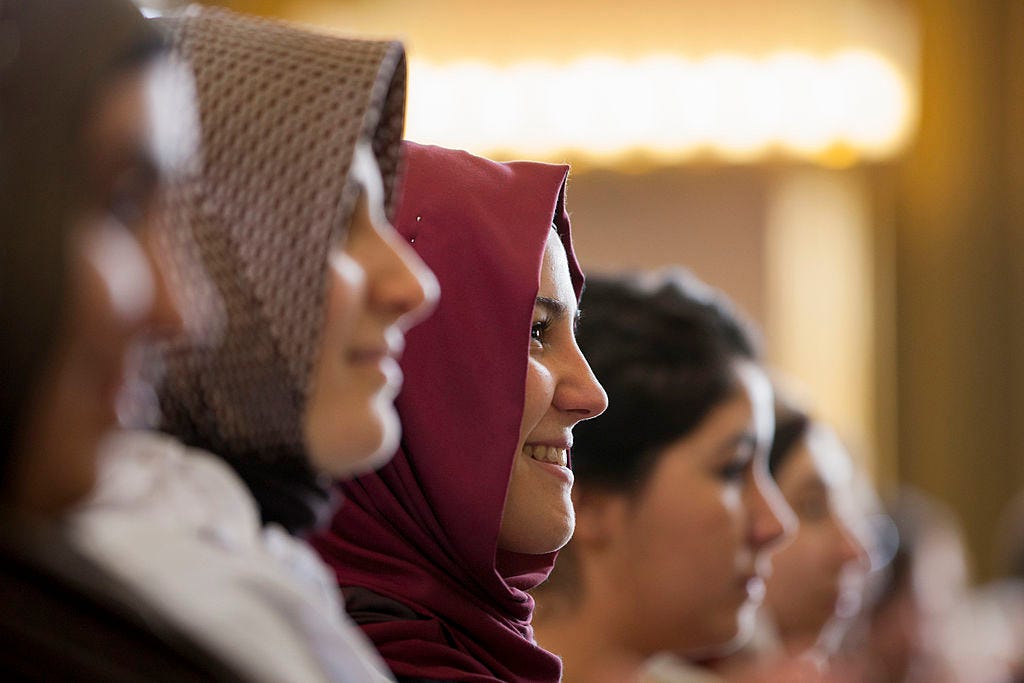 ","longer_truncated_body_json":null,"longer_truncated_body_html":null,"truncated_body_text":"It took Megan Rice just three weeks to go from first opening the Quran to professing her belief that Muhammad is the one true messenger of God. It all started on October 20, when Rice, a black American millennial-aged activist, announced on TikTok that she was reading the holy book for the first time.","wordcount":1356,"postTags":[{"id":"2f4ce471-ec01-48ca-a97e-0b149db155a1″,"publication_id":260347,"name":"show-pop-up","slug":"show-pop-up","hidden":false},{"id":"66824bdd-a3da-4ebb-b486-6cf36a377f4b","publication_id":260347,"name":"Francesca Block","slug":"francesca-block","hidden":false},{"id":"7f72d576-3c26-477f-90ad-cb032d25a6d7″,"publication_id":260347,"name":"Culture","slug":"culture","hidden":true},{"id":"8c9a5c9a-038b-45d2-85f5-a0910ab4df78″,"publication_id":260347,"name":"Suzy Weiss","slug":"suzy","hidden":false}],"publishedBylines":[{"id":107533748,"name":"Francesca Block","handle":"francescablock","previous_name":null,"photo_url":"https://substack-post-media.s3.amazonaws.com/public/images/bd3f0bd1-37c9-4662-a54e-3468fde4274f_144x144.png","bio":"Francesca Block is a reporter for The Free Press. Follow her on X (Twitter) at @FrancescaABlock","profile_set_up_at":"2023-03-22T21:34:36.875Z","is_guest":true,"bestseller_tier":null,"primaryPublicationId":1515231,"primaryPublicationName":"Francesca Block","primaryPublicationUrl":"https://francescablock.substack.com","primaryPublicationSubscribeUrl":"https://francescablock.substack.com/subscribe?"},{"id":13349169,"name":"Suzy Weiss","handle":null,"previous_name":null,"photo_url":"https://substack-post-media.s3.amazonaws.com/public/images/3c4f89cd-3eb7-4470-9e23-5a2e32637789_2048x2560.jpeg","bio":null,"profile_set_up_at":"2021-09-06T13:46:34.854Z","publicationUsers":[{"id":348221,"user_id":13349169,"publication_id":260347,"role":"admin","public":true,"is_primary":false,"publication":{"id":260347,"name":"The Free Press","subdomain":"bariweiss","custom_domain":"www.thefp.com","custom_domain_optional":false,"hero_text":"A new media company built on the ideals that were once the bedrock of American journalism.","logo_url":"https://bucketeer-e05bbc84-baa3-437e-9518-adb32be77984.s3.amazonaws.com/public/images/9cb7f208-a15c-46a8-a040-7e7a2150def9_1280x1280.png","author_id":2067309,"theme_var_background_pop":"#E8B500″,"created_at":"2021-01-12T05:33:41.075Z","rss_website_url":null,"email_from_name":"The Free Press","copyright":"Bari Weiss","founding_plan_name":"Founding Member","community_enabled":true,"invite_only":false,"payments_state":"enabled","language":null,"explicit":false}}],"twitter_screen_name":"TheFP","is_guest":false,"bestseller_tier":null}],"reaction":null,"reaction_count":700,"comment_count":1163,"child_comment_count":356,"audio_items":[{"post_id":138957794,"voice_id":"en-US-JennyNeural","audio_url":null,"type":"tts","status":"paywalled"}],"hidden":true,"truncated_description":null,"hasCashtag":false,"truncated_body_html":null,"post_paywall_content_for_google":null,"cover_image_alt":null,"cover_image_caption":"(Rolf Vennenbernd via Getty Images)","html":"
It took Megan Rice just three weeks to go from first opening the Quran to professing her belief that Muhammad is the one true messenger of God. 
It all started on October 20, when Rice, a black American millennial-aged activist, announced on TikTok that she was reading the holy book for the first time. 
Perched on her couch in a gray sweatshirt, she said to her then-400,000 followers in a video that has since been viewed more than 5.3 million times: u201CIt just seems that Palestinians have this ironclad faith even in the face of losing quite literally everything.u201D 
Three days later she founded the World Religion Book Club, a virtual community now boasting more than 13,000 members, where she conducts live readings of the Quran. Israelu2019s response to the Hamas attack on October 7 is where her journey toward the religion u201Call started,u201D she told her followers on November 2. 
By November 10, she first appeared on TikTok in a hijab, and the number of her followers had doubled. (It currently stands at 865,000.) The next day, Rice took her shahada, the Islamic ceremonial profession of faith, officially converting to Islam. 
Rice is among a new swath of TikTok usersu2014typically non-Arab, left-leaning Western womenu2014who consider themselves u201Crevertsu201D to Islam, based on the belief that all people are born on a natural path to Islam and therefore revert, rather than convert, to the religion.
There are currently scores of TikTok hashtags that include the word revert, including #WhiteRevert (1.6 million views), #BlackRevert (174K views), #JewishRevert (131K views), and #JapaneseRevert (278K). Biggest of all is the simple hashtag #revert, with 2.9 billion views, followed by #RevertMuslim (1.4 billion), and #MuslimRevert (525 million). At the same time, Osama bin Ladenu2019s Letter to America, in which the terrorist justifies Al Qaedau2019s hatred of the West and its attack on the Twin Towers, went viral this week on TikTok as young Americans declared admiration for his ideas.
","feature_image_alt":null,"feature_image_caption":"(Rolf Vennenbernd via Getty Images)","feature_image":"https://substackcdn.com/image/fetch/f_auto,q_auto:good,fl_progressive:steep/https%3A%2F%2Fsubstack-post-media.s3.amazonaws.com%2Fpublic%2Fimages%2F00a0fb34-da58-413f-98d7-d270c88c4598_1024x683.jpeg","comment_id":"138957794″,"comments":true,"featured":false,"visibility":"paid","created_at":"2023-11-18T11:00:17.162Z","updated_at":"2023-11-18T11:00:17.162Z","published_at":"2023-11-18T11:00:17.162Z","custom_excerpt":null,"codeinjection_head":null,"codeinjection_foot":null,"custom_template":null,"url":"https://www.thefp.com/p/why-western-women-are-reverting","excerpt":"Since October 7, young Americans have been professing their devotion to the Quran in u2018the ultimate rebellion against the West.u2019″,"reading_time":2,"access":false,"og_image":"https://substackcdn.com/image/fetch/f_auto,q_auto:good,fl_progressive:steep/https%3A%2F%2Fsubstack-post-media.s3.amazonaws.com%2Fpublic%2Fimages%2F00a0fb34-da58-413f-98d7-d270c88c4598_1024x683.jpeg","og_title":"Why Western Women Are Converting to Islam","og_description":"Since October 7, young Americans have been professing their devotion to the Quran in u2018the ultimate rebellion against the West.u2019″,"twitter_image":"https://substackcdn.com/image/fetch/f_auto,q_auto:good,fl_progressive:steep/https%3A%2F%2Fsubstack-post-media.s3.amazonaws.com%2Fpublic%2Fimages%2F00a0fb34-da58-413f-98d7-d270c88c4598_1024x683.jpeg","twitter_title":"Why Western Women Are Converting to Islam","twitter_description":"Since October 7, young Americans have been professing their devotion to the Quran in u2018the ultimate rebellion against the West.u2019″,"meta_title":"Why Western Women Are Converting to Islam","meta_description":"Since October 7, young Americans have been professing their devotion to the Quran in u2018the ultimate rebellion against the West.u2019″,"email_subject":"Why Western Women Are Converting to Islam","tags":[{"url":"/t/show-pop-up","feature_image":null,"visibility":"public","description":"","id":"2f4ce471-ec01-48ca-a97e-0b149db155a1″,"publication_id":260347,"name":"show-pop-up","slug":"show-pop-up","hidden":false},{"url":"/t/francesca-block","feature_image":null,"visibility":"public","description":"","id":"66824bdd-a3da-4ebb-b486-6cf36a377f4b","publication_id":260347,"name":"Francesca Block","slug":"francesca-block","hidden":false},{"url":"/t/culture","feature_image":null,"visibility":"private","description":"","id":"7f72d576-3c26-477f-90ad-cb032d25a6d7″,"publication_id":260347,"name":"Culture","slug":"culture","hidden":true},{"url":"/t/suzy","feature_image":null,"visibility":"public","description":"","id":"8c9a5c9a-038b-45d2-85f5-a0910ab4df78″,"publication_id":260347,"name":"Suzy Weiss","slug":"suzy","hidden":false}],"primary_tag":null,"authors":[{"id":107533748,"name":"Francesca Block","handle":"francescablock","previous_name":null,"photo_url":"https://substack-post-media.s3.amazonaws.com/public/images/bd3f0bd1-37c9-4662-a54e-3468fde4274f_144x144.png","bio":"Francesca Block is a reporter for The Free Press. Follow her on X (Twitter) at @FrancescaABlock","profile_set_up_at":"2023-03-22T21:34:36.875Z","is_guest":true,"bestseller_tier":null,"primaryPublicationId":1515231,"primaryPublicationName":"Francesca Block","primaryPublicationUrl":"https://francescablock.substack.com","primaryPublicationSubscribeUrl":"https://francescablock.substack.com/subscribe?","profile_image":"https://substack-post-media.s3.amazonaws.com/public/images/bd3f0bd1-37c9-4662-a54e-3468fde4274f_144x144.png","visibility":"public","slug":"107533748-francesca-block","url":"https://substack.com/@francescablock"},{"id":13349169,"name":"Suzy Weiss","handle":null,"previous_name":null,"photo_url":"https://substack-post-media.s3.amazonaws.com/public/images/3c4f89cd-3eb7-4470-9e23-5a2e32637789_2048x2560.jpeg","bio":null,"profile_set_up_at":"2021-09-06T13:46:34.854Z","publicationUsers":[{"id":348221,"user_id":13349169,"publication_id":260347,"role":"admin","public":true,"is_primary":false,"publication":{"id":260347,"name":"The Free Press","subdomain":"bariweiss","custom_domain":"www.thefp.com","custom_domain_optional":false,"hero_text":"A new media company built on the ideals that were once the bedrock of American journalism.","logo_url":"https://bucketeer-e05bbc84-baa3-437e-9518-adb32be77984.s3.amazonaws.com/public/images/9cb7f208-a15c-46a8-a040-7e7a2150def9_1280x1280.png","author_id":2067309,"theme_var_background_pop":"#E8B500″,"created_at":"2021-01-12T05:33:41.075Z","rss_website_url":null,"email_from_name":"The Free Press","copyright":"Bari Weiss","founding_plan_name":"Founding Member","community_enabled":true,"invite_only":false,"payments_state":"enabled","language":null,"explicit":false}}],"twitter_screen_name":"TheFP","is_guest":false,"bestseller_tier":null,"profile_image":"https://substack-post-media.s3.amazonaws.com/public/images/3c4f89cd-3eb7-4470-9e23-5a2e32637789_2048x2560.jpeg","visibility":"public","slug":"13349169-suzy-weiss","url":"https://substack.com/profile/13349169-suzy-weiss"}],"primary_author":{"id":107533748,"name":"Francesca Block","handle":"francescablock","previous_name":null,"photo_url":"https://substack-post-media.s3.amazonaws.com/public/images/bd3f0bd1-37c9-4662-a54e-3468fde4274f_144x144.png","bio":"Francesca Block is a reporter for The Free Press. Follow her on X (Twitter) at @FrancescaABlock","profile_set_up_at":"2023-03-22T21:34:36.875Z","is_guest":true,"bestseller_tier":null,"primaryPublicationId":1515231,"primaryPublicationName":"Francesca Block","primaryPublicationUrl":"https://francescablock.substack.com","primaryPublicationSubscribeUrl":"https://francescablock.substack.com/subscribe?","profile_image":"https://substack-post-media.s3.amazonaws.com/public/images/bd3f0bd1-37c9-4662-a54e-3468fde4274f_144x144.png","visibility":"public","slug":"107533748-francesca-block","url":"https://substack.com/@francescablock"},"tiers":null},"language":"en","country":"US","siteConfigs":{"score_upsell_email":"control","first_chat_email_enabled":true,"free_signup_confirmation_behavior":"with_email_validation","reader-onboarding-promoted-pub":737237,"pub_creation_captcha_behavior":"risky_pubs","new_commenter_approval":false,"pub_update_opennode_api_key":false,"selection_sharing":"NONE","guest_posts_revamp":"NONE","hide_book_a_meeting_button":false,"first_month_upsell_enabled":false,"substack_credits_enabled":false,"publication_max_bylines":50,"no_contest_charge_disputes":false,"new_subscription_management":false,"recommendations_announcement_url":"https://on.substack.com/p/recommendations","comp_expiry_email_new_copy":"NONE","free_unlock_required":false,"traffic_rule_check_enabled":false,"amp_emails_enabled":false,"enable_post_summarization":false,"image_deep_link_enabled":false,"bitcoin_enabled":false,"public_podcast_rss_feed_only_free_visible":false,"show_entire_square_image":false,"hide_subscriber_count":true,"editor_v2″:true,"publication_author_display_override":"","reader_onboarding_after_subscription_flow":"control","generate_pdf_tax_report":false,"enable_pledges_modal":true,"include_pdf_invoice":false,"hide_pub_from_subscription_recommendation":false,"platform_searcher_enabled":false,"tax_integration_enabled":false,"use_featured_pub_recommendations":false,"meetings_v1″:false,"custom_target_origin":"","exempt_from_gtm_filter":false,"group_sections_and_podcasts_in_menu":false,"boost_optin_modal_enabled":true,"use_microlink_for_instagram_embeds":false,"pub_tts_override":"default","disable_monthly_subscriptions":false,"skip_welcome_email":false,"chat_reader_thread_notification_default":false,"scheduled_pinned_posts":true,"disable_redirect_outbound_utm_params":false,"reader_gift_referrals_enabled":true,"allow_video_transcription":false,"dont_show_guest_byline":true,"like_comments_enabled":true,"extended_podcast_episode_metadata":false,"use_richer_html_for_editing_podcast_description":false,"default_to_editor_v2″:false,"enable_author_note_email_toggle":false,"meetings_embed_publication_name":false,"no_auto_renewal_notice":true,"people_you_may_know_algorithm":"experiment","presubscribes_disabled":false,"welcome_screen_blurb_override":"","post_recipients_batch_limit":1000,"like_posts_enabled":true,"enable_certainly_chat":false,"notes_publication_mentions_enabled":false,"twitter_player_card_enabled":true,"enable_credit_token_modal":true,"feed_promoted_user":false,"allow_renew_email_footer":false,"reader_recs_from_feed":"experiment","section_specific_csv_imports_enabled":false,"enable_video_upload_improvements":true,"show_posts_in_dashboard_overview":false,"generate_twitter_card_with_lamda":false,"list_pruning_enabled":false,"opt_in_to_sections_during_subscribe":false,"enable_presubscriptions":true,"underlined_colored_links":false,"android_contact_nux_remove_skip_button":false,"max_image_upload_mb":32,"enable_dms":false,"extract_stripe_receipt_url":false,"bulk_subscribe_upsell_email":"control","zendesk_automation_cancellations":true,"unread_notes_activity_digest":"treatment","threads_suggested_ios_version":null,"pledges_disabled":false,"threads_minimum_ios_version":812,"hide_podcast_email_setup_link":true,"subscribe_captcha_behavior":"default","publication_ban_sample_rate":0,"allow_moderation_sampling_mode":false,"allow_filtering_moderation_reasons":false,"photo_dna_enabled":false,"round_square_images":false,"reader_referrals_feature_enabled":false,"continue_support_cta_in_newsletter_emails":false,"end_of_post_publication_recommendation":"control","custom_publication_theme":true,"lists_enabled":false,"show_writer_referral_box":false,"generated_database_maintenance_mode":false,"allow_document_freeze":true,"spotify_open_access_sandbox_mode":true,"podcast_main_feed_is_firehose":false,"no_embed_redirect":false,"share_center_auto_selections_enabled":false,"non_post_first_party_link_tracking_enabled":false,"fullstory_enabled":true,"chat_reply_poll_interval":3,"signup_with_google":"control","enable_reader_marketing_page":false,"email_existing_users_on_import":false,"always_show_cookie_banner":false,"hide_media_download_option":false,"review_incoming_email":"default","twitter_figures_enabled":false,"post_page_modal_subscription_upsell":"experiment","share_center_video_quote_sharing_enabled":false,"subscribe_no_cc_pledge_screen":"NONE","pub_banned_word_list":"","suggestion_upsell_button":"control","credit_token_publication_suggested":true,"spotify_open_access":false,"minimum_ios_version":1249,"notifications_disabled":"","cross_post_notification_threshold":1000,"facebook_connect_prod_app":true,"gift_referrals_allow_reups":true,"minimum_android_version":756,"feed_main_disabled":false,"feed_polling_disabled":false,"show-subscribe-type-buttons":"control","enable_episode_clips":false,"live_events":false,"seo_tier_override":"NONE","cover_page_subscriber_ranking_copy":"control","cancellation_flow_experiment":"experiment","publisher_api_enabled":true,"zendesk_support_priority":"default","tweet_subscribe_redirect":"experiment","enable_subscriber_referrals_awards":true,"homepage_overlap_ufi":false,"suggestion_upsell_button_iteration":"control","use_js_for_open_substack_redirects":true,"section_specific_preambles":false,"web_vitals_sample_rate":0,"skip_twitter_step_in_writer_onboarding":true,"android_suggestion_categories_onboarding_tabs":false,"thebulwark_fixed_price_founding_plan":"experiment","share_selection_v2″:"experiment","enable_content_blocks":true,"section_specific_welcome_pages":false,"use_sdxl_in_image_generation":false,"local_payment_methods":"control","posts_in_rss_feed":20,"post_rec_endpoint":"","publisher_dashboard_section_selector":false,"publisher_banner":"","video_episodes":true,"shows_episode_page":false,"first_month_upsell":"control","twitter_connect_flows_enabled":false,"android_google_sign_in":false,"activity_item_batching":false,"rss_verification_code":"","enable_post_management_search":true,"chat_founding_tier":false,"enable_i18n_marketing_site":false,"internationalization_enabled":false,"audio_encoding_bitrate":null,"extra_seats_coupon_type":false,"post_subdomain_universal_links":false,"credit_tokens_enabled":true,"ios_suggest_share_after_subscribe":"control","notifications_post_email_experiment":"control","disable_annual_subscriptions":false,"instagram_share_notification":false,"enable_web_dms":false},"experimentFeatures":{"streaks_v2″:null,"show_welcome_page_on_post_page":"control","credit_tokens_email_2″:null,"platform_post_search_overweight_recency":"control","credit_tokens":null,"show_banner_on_imported_posts":null,"viral_post_notification":null,"welcome_email_app_button":null,"thebulwark_fixed_price_founding_plan":"include_fixed_price_founding","welcome_page_google_button":"treatment_signup","notes_ranking_v16″:null,"credit_tokens_reader_onboarding":"control","android_suggestion_categories_onboarding_tabs":null,"ios_suggest_share_after_subscribe":null,"credit_tokens_reader_onboarding_2″:"treatment_invite_friends"},"experimentExposures":{},"frameStylesheetPrefix":":root{–color_theme_bg_pop:#7671ec;–background_pop:#7671ec;–cover_bg_color:#FFFFFF;–background_pop_darken:#605be9;–print_on_pop:#ffffff;–color_theme_bg_pop_darken:#605be9;–color_theme_print_on_pop:#ffffff;–border_subtle:rgba(204, 204, 204, 0.5);–background_subtle:rgba(234, 234, 252, 0.4);–print_pop:#7671ec;–color_theme_accent:#7671ec;–cover_print_primary:#404040;–cover_print_secondary:#757575;–cover_border_color:#7671ec;–font_family_headings_preset:Lora,sans-serif;–font_weight_headings_preset:600;–font_preset_heading:fancy_serif;–home_hero:magaziney;–home_posts:list;–web_bg_color:#ffffff;–custom_css_email:n.post .post-header .post-title {n font-family: Baskerville, Georgia, serif;n font-size: 40px;n line-height: 42px;n font-weight: normal;n color: #000000;n}nn.post .post-header .subtitle {n font-family: Baskerville, 'Times New Roman', Georgia, serif;n font-weight: normal;n font-style: italic;n font-size: 24px;n line-height: 28px;n color: #000000;n}nn.post .post-meta .custom-css-email-post-author,n.post .post-meta .custom-css-email-post-author a {n font-weight: 900 !important;n}nn.markup p {n font-family: Georgia, serif;n}nn.typography .captioned-image-container-static figcaption {n padding-left: 0;n padding-right: 0;n text-align: left;n color: #808080;n width: 100%;n}nn.custom-css-email-avatar {n display: none;n}nn.custom-css-email-digest-post-embed h2,n.custom-css-email-digest-post-embed h4 {n font-family: Baskerville, Georgia, serif !important;n font-size: 24px !important;n line-height: 28px !important;n font-weight: 600 !important;n color: #000000 !important;n}nn.custom-css-email-digest-post-embed p {n font-family: Baskerville, Georgia, serif !important;n font-size: 16px !important;n line-height: 20px !important;n}n;–background_contrast_1:#f7f7f7;–color_theme_bg_contrast_1:#f7f7f7;–background_contrast_2:#ebebeb;–color_theme_bg_contrast_2:#ebebeb;–background_contrast_3:#d6d6d6;–color_theme_bg_contrast_3:#d6d6d6;–background_contrast_4:#b8b8b8;–color_theme_bg_contrast_4:#b8b8b8;–background_contrast_5:#9a9a9a;–color_theme_bg_contrast_5:#9a9a9a;–background_contrast_pop:rgba(118, 113, 236, 0.4);–color_theme_bg_contrast_pop:rgba(118, 113, 236, 0.4);–input_background:#ffffff;–cover_input_background:#ffffff;–tooltip_background:#191919;–web_bg_color_h:0;–web_bg_color_s:0%;–web_bg_color_l:100%;–print_on_web_bg_color:#404040;–print_secondary_on_web_bg_color:#8c8c8c;–selected_comment_background_color:#fdf9f3;–background_pop_rgb:118, 113, 236;–color_theme_bg_pop_rgb:118, 113, 236;–color_theme_accent_rgb:118, 113, 236;}","frameStylesheets":["https://substackcdn.com/bundle/theme/main.916b690b3ab3b852d65d.css","https://substackcdn.com/bundle/customPublicationTheme.4338e624911e6d93d99d.css"],"isMeetingsActive":false,"publicationSettings":{"block_ai_crawlers":false,"did_identity":null,"disable_optimistic_bank_payments":false,"display_welcome_page_details":true,"enable_meetings":false,"payment_pledges_enabled":false,"enable_post_page_conversion":true,"enable_prev_next_nav":false,"enable_restacking":true,"google_analytics_4_token":null,"group_sections_and_podcasts_in_menu_enabled":false,"medium_length_description":"","notes_feed_enabled":false,"post_preview_crop_gravity":"center","reader_referrals_enabled":false,"reader_referrals_leaderboard_enabled":false,"seen_coming_soon_explainer":false,"seen_google_analytics_migration_modal":true,"local_currency_modal_seen":true,"local_payment_methods_modal_seen":true,"twitter_pixel_signup_event_id":"tw-od5pv-oddwq","twitter_pixel_subscribe_event_id":"tw-od5pv-odlwp","use_local_currency":false,"use_local_payment_methods":true,"welcome_page_opt_out_text":"No thanks"}}